Wireless speakers are nowadays very common and very useful for outdoor parties. Many people already own Bluetooth speakers, therefore many beginner DJs want to start their hobbies with them. Nevertheless, DJ gears never seem to incorporate Bluetooth. Therefore can you DJ with Bluetooth speakers?
It is possible to DJ with Bluetooth speakers. What you need is an aptX low latency transmitter connected to the DJ controller or mixer. The Bluetooth speakers will also need to be aptX low latency. Without these requirements, DJing may be difficult because of the delay in the audio.
In short, not every Bluetooth speaker can work for DJ activities and not every transmitter either. Hopefully, I will cover several models that are compatible. If you already own a speaker that is not compatible, I will help you connect it with the right cable instead.
Why use an aptX low latency transmitter to DJ
The Bluetooth protocol needs to encrypt and decrypt the audio signal to be transmitted wirelessly. Because of that process, latency is added compared to audio cables. With the regular Bluetooth protocol, this latency is around 150 ms (sometimes even worse). That may seem low, but that is huge when playing an instrument or beatmatching.
This latency and its impact on beatmatching is something I have already covered in another post: Can you DJ with wireless headphones. I won't cover it in detail here, but while I am not for mixing with wireless headphones, I am not against Bluetooth for speakers.
Indeed, with headphones, the latency can really be complicated for finger-drumming or simply CUEing on the fly. However, with wireless speakers, the problem is not as big. Indeed, even if there is latency with the speakers, you can still beatmatch everything through the headphones. Having latency between your DJ gear and your headphones can be problematic but it is way less troublesome to have latency between your gear and the speakers.
However, it is still recommended to have the latency as low as possible. That's why it is recommended to use aptX low latency devices. Such devices can have a latency of only 40 ms. Below is a video that compares different kinds of delays due to Bluetooth. It will help you feel the kind of discomfort too much delay can give.
Connecting a Bluetooth DJ speaker using a low latency transmitter
1. Buy an aptX low latency Bluetooth transmitter
First things first, what you need is an aptX low latency Bluetooth transmitter. That's the type that will reduce the delay to the minimum. Without such a transmitter, DJing can become quite difficult while finger-drumming or beatmatching.
I have selected two models. The first one runs on battery, is small, and has fewer specs. The second one is bigger, has more functionalities, and needs to be plugged into a power outlet.
Anker Soundsync A3341
The Anker Soundsync A3341 is both a transmitter and a receiver. In other words, you can use it to send the sound from your DJ gear to Bluetooth speakers but also transform any standard speakers into Bluetooth ones. In our case, what we are interested in is the transmitter option.
Its compact size, and the fact it can run on battery, makes it very useful within a flight case. If needed to be charged, a simple USB cable is enough. It can run up to 20 hours.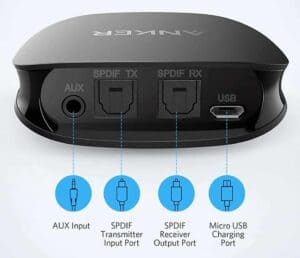 It is compatible with Bluetooth 5.0 and its range is up to 33ft (10m). It has a SPDIF output, a SPDIF input, and an AUX input. The latter is what we use to plug the audio from DJ gears (see next section). It comes with an RCA to aux adapter plus an aux cable. That's exactly the cables we need for our DJ equipment which is really nice!
Buy this transmitter on Amazon here.
Avantree Oasis B
The Avantree Oasis B is also a transmitter and a receiver. However, its range is way bigger with up to 164ft (50m). To achieve such a range, the Oasis B does not run on battery but needs to be plug into a regular 5V power outlet (cable included).
It has everything the Anker does but with an additional AUX output and the possibility to use it in bypass/pass-through mode. This lets you the possibility to switch between wired and wireless speakers thanks to a switch. This is very convenient for many configurations, especially if you don't like to unplug things at each use.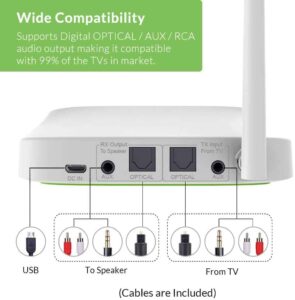 Its buttons and led indicators make the Avantree easier to use compared to the Anker Soundsync. This is especially useful to check the low latency mode is activated. Like the Anker, it comes with an RCA adapter and an aux cable which is what you need for your DJ gears.
I personally prefer the Avantree over the Anker. It is indeed bigger, but it has very useful functionalities and better specs for only a few bucks more.
Buy the Avantree transmitter on Amazon here.
2. How to connect the Bluetooth transmitter to your DJ controller or mixer
If you followed my transmitter recommendations above, connecting the Bluetooth transmitter should be easy. Indeed these transmitters are shipped with the right cables.
All you need to do is combine the RCA and AUX cables into one. Then connect the cable with male RCAs (the white and red plugs) into the master output of your DJ gear. Finally, connect the remaining male end of the AUX cable into the transmitter. Here is a nice schema showing how to do so: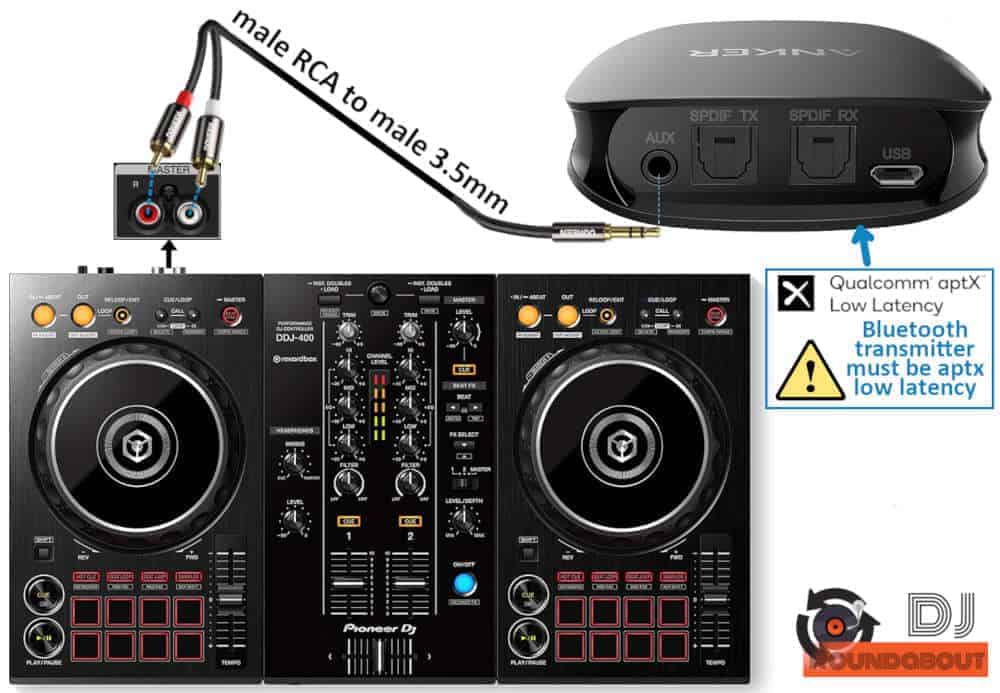 3. Pair your Bluetooth speakers with the transmitter
In order to pair the Bluetooth speakers with your transmitter, please refer to the transmitter user manual. Every transmitter has a different procedure but what is important is making sure the aptX low latency mode is activated. Indeed, the low latency mode is often not the one by default. So make sure to read the manual carefully. Otherwise, your speakers won't be "DJ ready" because of the delay.
4. Press play
Once everything is set up, there is not much difference between using wireless speakers and standard ones. At least as long as the aptX mode is activated. If your transmitter runs on battery, just make sure to charge it often!
Connecting a Bluetooth DJ speaker using an aux cable
If you already own a Bluetooth speaker that unfortunately does not have the aptX low latency codec, you may connect it with a cable. Indeed, many Bluetooth speakers come with an AUX input or line-in. If that's the case of yours, all you need is this cable from Amazon.
Simply connect the white and red plugs with the corresponding sockets named "master" on your DJ controller or DJ mixer. The other end simply goes into the speakers. In short, that's the same procedure as the previous schema.
Please note that some Bluetooth speakers have latency even with cables. That's because the sound signal goes through the chip that normally handles the Bluetooth instead of bypassing it. JBL Bluetooth speakers have this "issue" which is a shame considering their popularity.
Recommended Bluetooth speakers for DJs
A good Bluetooth speaker for a DJ is a speaker with the aptX low latency codec. Meeting this criterion, below is a list of good Bluetooth speakers:
The Soundcast VG series
The Soundcast VG series are great Bluetooth speakers for DJs. They are rain, snow, dust, and sand-proof thanks to an IP64 certification. They are battery-powered and come in different sizes corresponding to different volume strengths. They have NFC pairing which is very nice to ease the association. The big one is really great to throw a small outdoor party. They may be a bit expensive, but they are really sturdy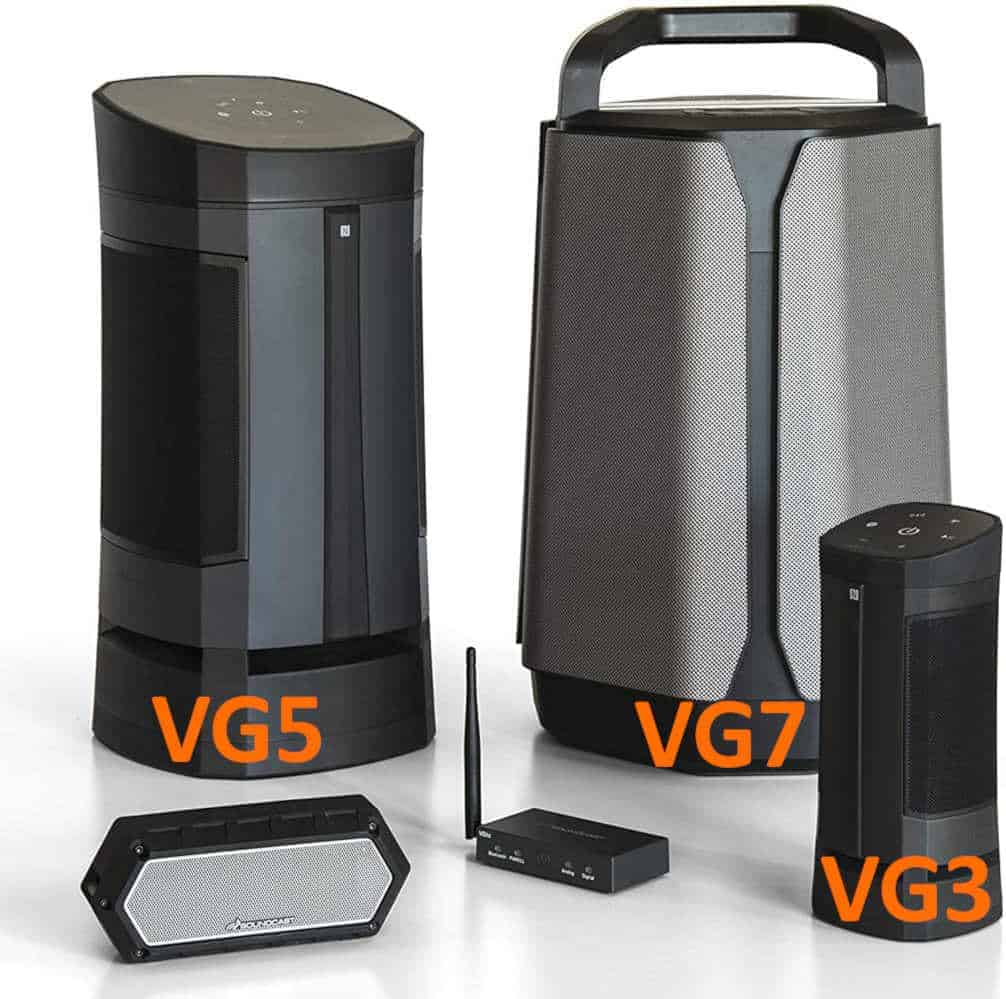 Common specs:
Bluetooth 4.2
360° sound
Aux input (3.5mm)
NFC pairing
IP64: weather proof (rain, snow, dust, sand)
Work in extreme heat and cold: -4°F to 140°F (-20°C to 60°C)
VG3 specs:
Volume Power: 30W RMS
Battery life: Up to 21 hours
Size (HxWxD): 8.9" x 3.75" x 3.75" (22.5 x 9.5 x 9.5 cm)
VG5 specs:
Volume Power: 44W RMS
Battery life: Up to 10 hours
Size (HxWxD): 17.2" x 8.25" x 8.25" (43.5 x 21 x 21 cm)
VG7 specs:
Volume Power: 60W RMS
Battery life: Up to 20 hours
Size (HxWxD): 19" x 11" x 11" (48.5 x 28 x 28 cm)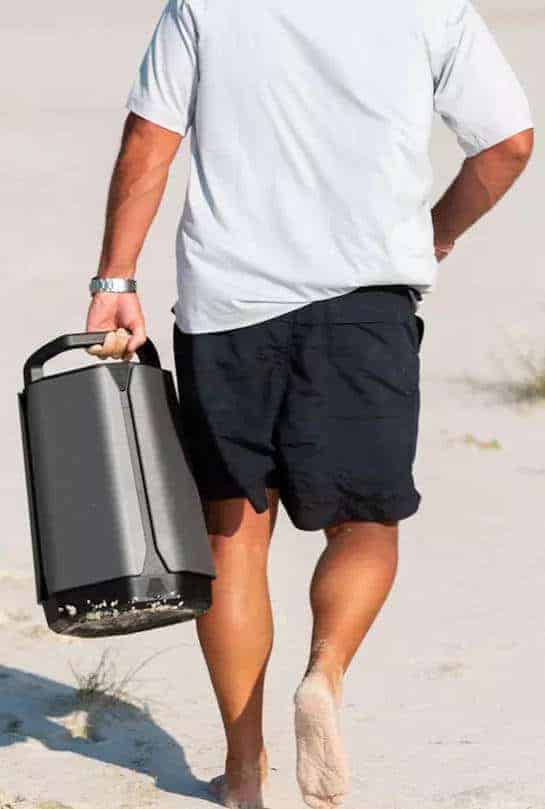 Bang & Olufsen Beosound A1 2nd GEN
The Beosound A1 from Bang & Olufsen is a great speaker for its size. It is really well designed and has an amazing battery life of 18 hours. It has 3 microphones for calls and Alexa while staying dust and waterproof thanks to an IP67 certification. IP67 means it can be immersed for 30 minutes in 1m depth, way better than the IP64 that only certifies some splashing.
It won't allow you to throw an outdoor party, but for training in your bedroom or for 8 people around a pool, it will do the trick. It is also more affordable. Please note it does not have a 3.5mm input. An aptX low latency Bluetooth transmitter is therefore compulsory to make it work with your DJ gear.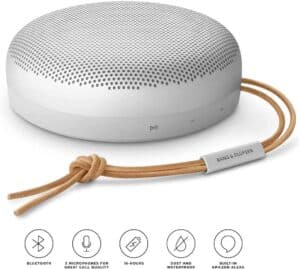 Specs:
Bluetooth 5.1
No aux input (3.5mm)
IP67 certification: Can be immersed 30 minutes in 1m depth. Also resists sand and dust.
3 microphones for calls and Alexa
Volume Power: 30W
Battery life: Up to 18 hours
Size (WxWxH): 5.5″ x 3.15″ x 1.1″ (13.3 x 13.3 x 4.6 cm)
How to find Bluetooth speakers compatible for DJs
Low latency Bluetooth speakers are hard to find because this new codec is not common yet. Fortunately, you can find a quite comprehensive list on the official aptX website: