Having Rekordbox not detecting a USB stick is a common issue. No worries, no need to throw it away, just follow the instructions in this article to fix your USB drive.
The main reason for Rekordbox not reading a USB stick is an unsupported file system. In order to fix it, you need to format your USB stick in FAT32. It is not recommended to do it with Windows integrated tool which limits the maximum size of USB drives. Also, make sure you use Rekordbox export mode.
Reasons for Rekordbox not detecting USB stick or portable hard drive
There are several reasons for Rekordbox not recognizing a USB drive:
1. You are using performance mode and not export mode
In some cases, a USB storing device won't show up in performance mode. For instance, if you previously used the export mode to put files on a USB stick. That stick won't show up in performance mode as a source afterward.
Because of that, you cannot share exported USB sticks between friends to share your library. The only way to have an external drive working as a source is to store your music and Rekordbox database on that device (more on that here).
So first, check if your USB stick is showing in export mode. If it's not, that means you may have a formatting problem.
2. The USB stick is not in FAT32
Another reason Rekordbox doesn't recognize a USB device is its file system. It is recommended to use FAT32 as much as possible because it will be recognized by Windows, Mac, and CDJs.
While ExFAT can be used by Rekordbox, it is not compatible with Pioneer players. HFS+ is also fine but won't be recognized by Windows. FAT16 is an old system used for small storage devices. Therefore, it is always better to stick with something formatted in FAT32.
Below is an image showing how to check if your USB is in FAT32: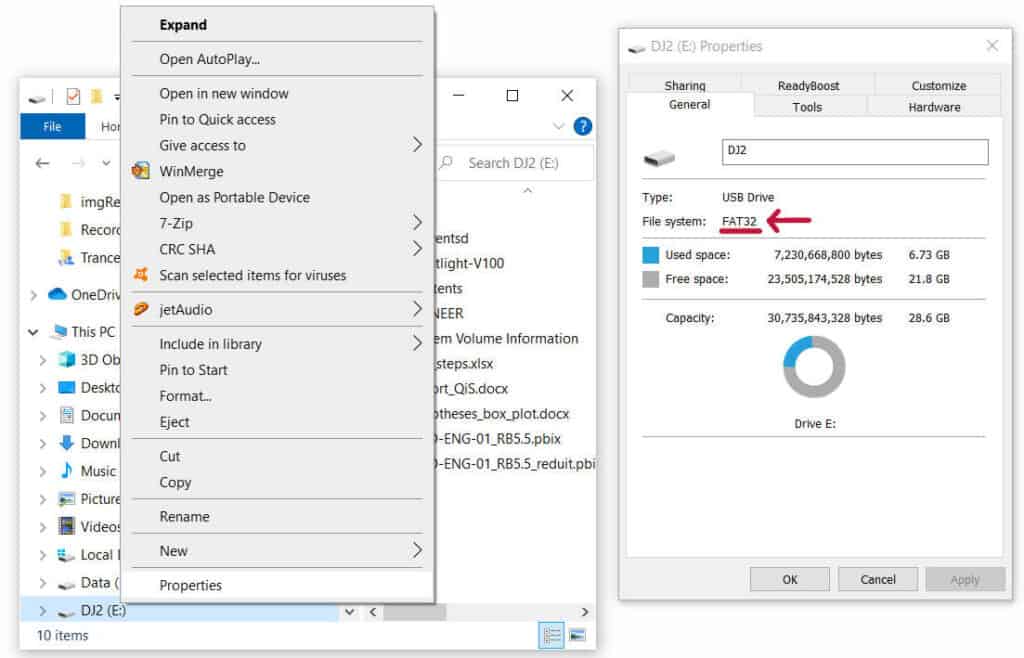 It is also important to know that CDJs can only recognize the first partition of a drive. Therefore if you use an external hard drive, make sure the primary drive is the one you intend to put music on.
The steps to format your USB stick properly are explained below for both PC and Mac.
3. The USB stick is too slow or broken
A cheap USB stick can be too slow for DJ use. Not all USB sticks are recommended.
For this reason, I made a list of USB sticks that are known to work with Rekordbox here.
How to format your USB stick for Rekordbox on PC
Here comes the problem that most Windows users face: The default formatting tool cannot create drives above 32GB in FAT32.
However, it is possible to install other software, hopefully for free, to overcome this limitation. I like to use Partition Wizard which is easy to use. Here is a quick tutorial:
First, identify your USB drive thanks to its letter or name:
Right click and then click format: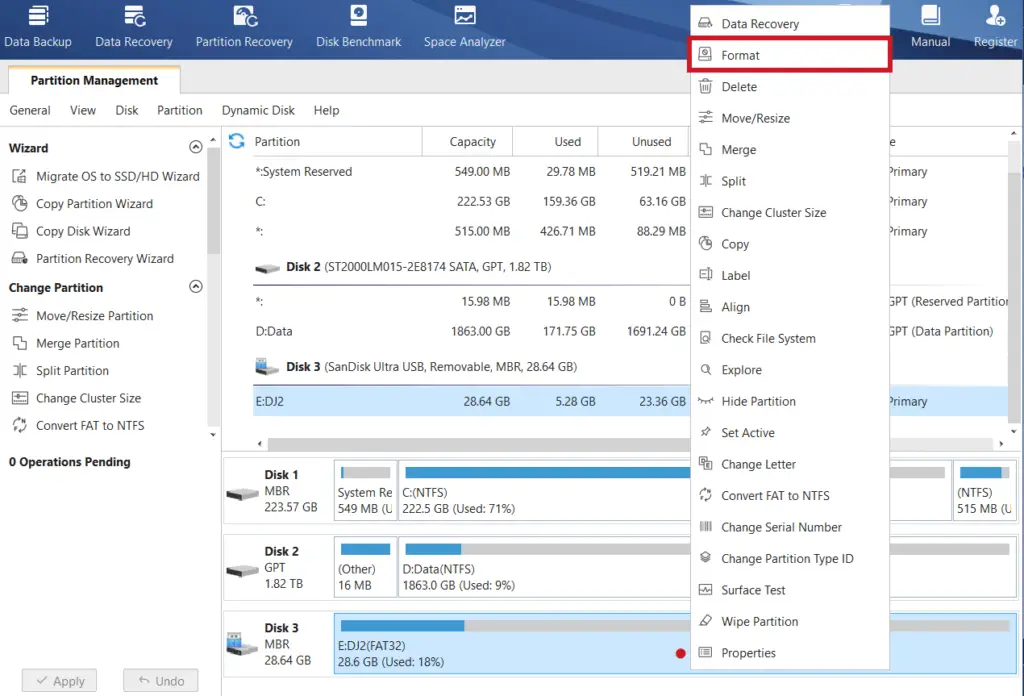 Then select FAT32 as file system. Default Cluster Size is fine.
It is recommended to do these actions twice. Indeed many people said doing it twice solved errors they had.
Also, make sure that this is an MBR Disk:
If that's not the case, then simply right-click and click on "Convert GPT Disk to MBR Disk" and redo the steps above.
Your USB sticks should now be working with Rekordbox. If it is still not the case, then move to this section.
Please note that it may happen that a flash drive becomes corrupted by another software or by unsafe ejects. If one day your USB drive stops working properly, redo these formatting steps.
How to format your USB stick for Rekordbox on Mac
All you have to do is go in Applications > Utilities > Disk utility: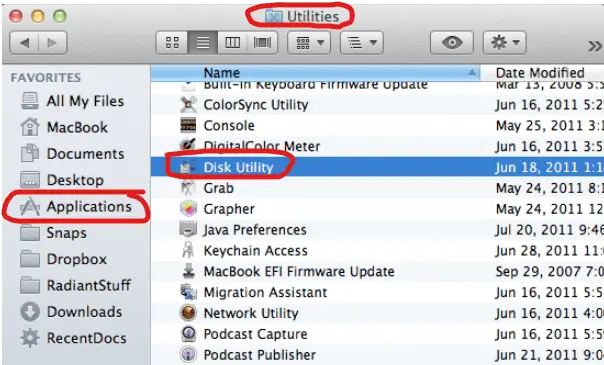 Then select your drive, click erase, select FAT format and Master Boot Record Scheme. Finally, click erase: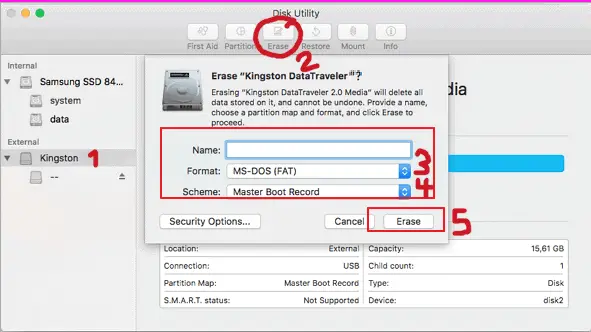 Doing these steps on a Mac should be enough to make your USB flash drive work on Rekordbox. If that's not the case then please go to the next paragraph.
USB sticks recommended for Rekordbox and Pioneer CDJs.
If none of the above solutions work, that means you need a new USB stick.
One brand that is often quoted by users for working great is "Sandisk". That's the brand I personally use. If you are looking for one that is great for value, I recommend the Sandisk Cruzer Flair. Many DJs use it and are happy with it!
Otherwise, Pioneer personally recommends two USB flash drives:
They have been tested by the manufacturer and are certified to work. They are indeed more expensive than regular ones but that's because they are very fast!
I do recommend paying the extra bucks for the flash drives recommended by Pioneer. Indeed, having fast USB drives have another huge advantage: Saving time when exporting songs from Rekordbox.
As shown in this video, transferring 199 MP3s takes 2 minutes with the Corsair GTX 3.0 drive whereas it takes 12 minutes with a standard PNY USB 3.0. That's 6 times faster! To me, that's really worth the extra bucks!
Related questions
What format does a USB need to be for Rekordbox?
USB sticks need to be in FAT16, FAT32, and HFS+ to be recognized by Rekordbox. It is recommended to use FAT32 for wider compatibility among systems.
Does NTFS work with Rekordbox?
An NTFS disk can be browsed in performance mode but cannot be used in export mode. This is to prevent the use of external hard drives in NTFS which are not recognized by Pioneer players such as CDJs or XDJs.
Can Rekordbox read exFAT?
Rekordbox can read exFAT drives but cannot write on them. exFAT drives should work in performance mode but not in export mode. This is to prevent the use of exFAT drives with CDJs which do not support this file system.
My CDJ is not reading my USB stick, what can I do?
I have written a step-by-step blog post to solve this issue. You can find it here!