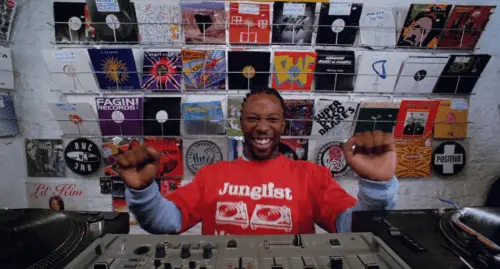 Watching DJ movies and documentaries is a good way to understand how the DJ scene has evolved over the years. There is always a thing to learn while watching those. Some of them focus on the historical side of things, some others on the spirit of DJing and raves: partying. While they are not always informative regarding DJ history or the club culture, they are at least interesting regarding their tracklist. Therefore, it is always worth it to watch them when being a DJ.
I tried to create the most comprehensive list of movies and documentaries that every DJ should consider watching. The first seven are the ones that you don't want to miss. Then I present three good contenders that you might consider. Finally, I also listed some movies I did not watch but which are often mentioned online. Just in case you could be interested. I really put all my heart in this list. I really hope you will like it!
What we started (2017)
What we started is probably the best documentary out there about the DJ culture. I really recommend every DJ to see it. I understand that some people do not like documentaries, but this one is definitely different. Indeed, What we started, is well-paced, not boring and still very informative. It does not use the boring tone TV used to do. It really is entertaining to watch and time goes by really quickly. 
Distributed by Netflix, the trailers focus a lot on Martin Garrix and Carl Cox. But in fact, the movie is really not about them but about the DJ history. Yes, the movie starts with Carl Cox and finishes with Martin Garrix. But it does that to show their differences and yet many similarities. Yet, that's only a small portion of the documentary! The majority of the documentary is really about the journey the music went through. From disco to EDM through Techno, and what it means for electronic music.
Therefore, it goes through how the underground disco from Paradise Garage in New York became popular. Explains how this popularization killed the style, which made it become underground again. Thanks to that, house music was born with the addition of drum machines and synthesizer in Chicago. From there the music changed from live band musicians (disco), to music made by DJs with no musical training but a lot of creativity.
It then talks about the birth of techno in Detroit in "the music institute". It presents how the guys back then, like the legend Jeff Mills and Derrick May, made the movement. Not being afraid of the technology but moving along with it, being creative.
It also explains how electronic music moved to Europe thanks to the UK and Ibiza. How the raves in the UK changed everything, like a complete rebirth of clubbing. Why electronic was forgotten in the United States during a time, and eventually became popular again thanks to David Guetta, etc. It forgets nothing!
I really like how the film presents archives of key moments in history like:
The time Paul Oakenfold played the opening act of U2 in 1993. The first DJ to play in front of such a huge crowd, like a rock star.
The first all night long DJ solo act: Tiësto In Concert in 2003.
Tiësto playing the opening ceremony of the Olympics in 2004.
The birth of the Berlin Love Parade and its 1 million+ attendees after the fall of the Berlin Wall in 1989.
The closing party of the club "space" in Ibiza where Carl Cox held a 15 years residency!
The film features also interesting interviews from Pete Tong, Paul Oakenfold, Seth Troxler, Richie Hawtin, Carl Cox, Martin Garrix, Tiësto, Eric Morillo, Moby, Sasha, Afrojack, etc. Still not convinced?
Of course, the documentary goes along with music from each period of time. If there is one movie to watch from this list, that would be that one! Really the best DJ movie on Netflix.
Avicii: True Stories (2018)
As you probably know, Avicii died during April 2018. This movie was released just before that, first in cinemas in late 2017 and then aired on Netflix in 2018. Thus the documentary does not cover the event. However, knowing what happened makes watching this movie a strange feeling to it.
Indeed, the documentary mainly focuses on showing the real Tim Bergling behind the Avicii avatar. A guy with both health and mental issues. Struggling with anxiety and his purpose in this world. In the film we follow Tim from his debut, through all his problems, to eventually finishing his touring career in 2016. It starts with an interview of him stating: "I got to a point where I didn't like it anymore. I got to a point where it was too much. After that I've decided: Fuck it, I am gonna quit!". It really puts the tone of the entire documentary from the start.
That's really what Avicii: True Stories is all about: Showing that our artist heroes do not live in a fantasy. We see Avicii traveling all around the world with no time to relax, to finds his pace, to finds his place. We see how the industry keeps putting pressure on him. In the end, Tim starting developing anxiety issues. He started drinking to release some steam, but that leads him to develop pancreatitis.
At this point, you understand how the industry put him into stress. How it leads him to make bad decisions. He had so many dates that he decides not to cure his pancreatitis in its early stages. Instead, he continued touring with painkillers in order to avoid canceling dates. But eventually, he became addicted to these painkillers. These were becoming less and less effective until a breaking point. In the end, his anxiety developed more and more, letting a young Tim with real mental issues.
What is crazy about this documentary is that it features real-life footage. So you really see Tim struggling with his life in the actual moments. It makes you understand what could have lead to his death in 2018. Therefore you see key moments of his life: 
His time at the hospital when diagnosed with pancreatitis. 
His discussions with the doctors to decide touring with pain killers. 
Him writing the letter to announce the end of his touring career.
Hopefully, the movie is not only about the downside. We also see many happy moments:
Him signing his first buzz "levels" to a major (and the deal made). 
How he started by sending several demos every week to Laidback Luke. 
His friendly discussion with his friend David Guetta. 
His studio time with Nile Rodgers.
The time he presents "A Sky Full Of Stars" melody to Coldplay.
Here are some extracts which I believe are relevant to the mood of the documentary:
This film is really important because Avicii's death reshaped the entire DJ industry. Indeed, since his death, many DJs confessed about their difficulties themselves. Avicii was the one to put the debate in the open. As such, David Guetta confessed his willingness to slow things down. Armin Van Buuren also confessed about the stress being the Number 1 DJ several times. How trying to satisfy everyone puts pressure on you. Like some of your fans like your new stuff whereas others preferred your older stuff, etc. In the end, Armin decided to do the music HE wants to do and spends more time with his family. Eventually, it leads to the album "balance", a testimony of him finally finding balance in his life.
Avicii really made a huge impact on the electronic music industry. In a musical manner but also on the DJ lifestyle. It will change entirely your perception of what being a superstar DJ means. Do not miss it!
Human traffic (1999)
Human Traffic is one of the classics when it comes to DJ culture and clubbing. This is the first "DJ movie" I have watched and still one of my favorites. One of the reasons I love it so much is because of the tracklist. It has songs from Armand Van Helden, C.J. Bolland, Fatboy Slim, William Orbit, System F, Energy 52, Underworld, Carl Cox, etc. Well Pete Tong, of the most renowned BBC Radio 1 host, was the music advisor for the film. So that's not a surprise. This film is timeless for any DJ just because of its tracklist. But the film is still great though, so do not just download the tracklist online!
The film is about five young adults who have jobs they are not happy with. They only think of one thing: waiting for the weekend to party. While the plot may seem boring, the film explores the club culture with an emphasis on drugs. But the way it handles it is great, with not being judgmental about drug use. It shows how these young people go through their problems together thanks to friendship, love and relaxing through partying. Being a 1999 movie, it focus on the UK scene. But do not let that prevent you from watching it, it's really great! Carl Cox appears in a scene, would you find him?
One of my favorite scenes is the "clubs were better before". It is funny when you consider the movie is from 1999. Plus one of my favorite songs is being played in the background: System F – Out of the blue. Easy win for me :). Of course the record shop scene is also a famous one. You can watch both scenes below:
Otherwise I believe the trailer catches the vibe pretty well, go have a look:
Kevin and Perry go large (2000)
If you are a big fan of trance as I do, then you must go watch this movie. Its tracklist is fantastic for every trance fan. Its main theme retakes the famous Y Traxx – Mystery Land with a new remix. Many scenes happen in the famous "Cream" parties happening at the Amnesia club in Ibiza. The "Cream" party no longer exists today and the amnesia club has been completely rebuilt. Kevin and Perry is a great testimony of what the club looked like at the time.
The plot is about two young virgin Dj wannabe who would love to go to Ibiza and have sex there. They manage to go with one of their freshly pressed record. Just after landing, they meet with one of their DJ idol, DJ Eyeball Paul. The DJ star likes to drink vodka through his eyeball, hence the name. The crazy man decides to sign the two young lads to his label. But his true intention is to humiliate the two young lads. 
As you understood, that's a comedy movie, playing the absurd side. But compared to Frankie Wild (see next movie), I don't feel like it overdoes it. Moreover, the pace of the film is well handled. Just remember to put your brain aside while watching!
The film is interesting for every DJ because it is a time machine about the trance tracks that were popular at the time in Ibiza. Indeed Trance music was really popular around 2000. It's also a good way to see how was the "Cream" vibe back in the days, in its prime.
The soundtrack was prepared by Judge Jules, another BBC Radio 1 famous host. Here is a preview of the tracklist:
Children – Robert miles
Ayla – Ayla (DJ Taucher Mix)"
DJ Tiësto – Sparkles (Airscape Mix)
Lange feat. The Morrighan – Follow Me
Signum feat. Scott Mac – Coming On Strong
Fragma – Toca's Miracle
Agnelli & Nelson – Everyday
Mauro Picotto – Lizard (Claxxix Mix)
Y-Traxx – Mystery Land (Sickboys Courtyard Remix)
Frankie Wilde – It's all gone Pete Tong (2004)
It's all gone Pete Tong is also a DJ movie considered as one every DJ should have watched. I am personally not a big fan of it. Firstly, its tracklist is not so memorable in my opinion. Secondly, it's a comedy, but of a style I do not like particularly: absurd but over the top. Again it's a UK movie, so maybe that's why I don't get it. British humor is maybe not of my taste sometimes.
The film is about a famous DJ, Frankie Wilde, touring around the world in the best clubs. But he abuses his fame: drugs, alcohol and eventually lost control to become almost deaf. After going into depression, Frankie slowly backs up the slope and decides something crazy: Create a new album and re-start touring while being almost deaf. This is the birth of the deaf DJ myth.
The movie is famous because it is built as if the story being told is true. As such, it has interviews from Paul Van Dyk, Tiësto and big heads of the Ibiza scene like Danny Whittle (Pacha) and Charlie Chester (DC10). These clips have contributed to nourish the myth and today some people really believe this "deaf DJ" existed. It has become a "DJ meme" even before meme existed.
Berlin Calling (2008)
After some British movies, here comes a German one. As you may know, Berlin is a big techno scene. You have probably heard of the famous Berghain club and its infamous bouncer. Well, the movie takes place in Berlin, hence the name.
The movie stars Paul Kalkbrenner, a famous german techno DJ. In fact, you probably know some of its tracks. Indeed, the movie made him really famous, thanks to songs rocking the charts like "Sky And Sand" or "Azure". The film is interesting because most of the soundtrack was made by Paul himself. You also see him producing bits of the soundtrack with his midi keyboard and Ableton (music software).
The movie is about Ickarus, a DJ at the peak of his carrier. He is currently producing a new album but his cocaïne addiction sends him in shambles. Indeed, after several problems due to the drug, his girlfriend and also manager leaves him. After his last overdose, he loses his label and finishes in a psychiatric hospital. He brings there all his music equipment and decides to finish his album there.
Berlin Calling is like a portrait of modern artists. Unlike "Frankie Wilde", the movie tries to make it tangible, like it was a real story. It is still entertaining though, it's not a documentary but a movie. In fact, it is quite inspiring regarding how artists face fame and go through it. Moreover, the soundtrack is great. So if you are into techno, this is definitely a must-watch!
Note that the movie is now available on Netflix! Here is one of the famous scene of the movie:
Scratch (2000)
I personally did not watch Scratch because I am neither into hip hop nor scratching. But it is told to be one of the best documentaries about the scratch culture. So if you are into scratching, this is definitely something to consider watching.
In scratch, you will be able to see leading scratch artists perform and explain their art. The documentary stars the legend DJ Qbert and his former master MixMaster Mike from the Beastie Boys. You will also see another legend: DJ Shadow, known to mix and scratch many musical genres. 
Scratching is a lot about competition and a bit of street style. As rapping or dancing competitions, DJs have different styles and followers, almost like a crew. As such, the film presents some DJ competitions and key moments in history. For instance, GrandWizzard Theodore is presented as the first to do the "back and forth" movement. The founder of the Universal Zulu Nation, Afrika Bambaataa, is credited in the movie as the founding father of the hip hop culture. 
You got the idea. Many things to learn from this documentary about scratching. You can find it in full just below:
Maestro (2003)
A documentary about how people went to underground parties in the late 70s in New York to flee from the mainstream culture. It presents what was the early dance culture back there in the famous "Paradise Garage". The place where disco was born. Strangely articulated, it feels a lot like a home movie and is difficult to understand for someone not from the clubbing culture. The film feels kind of outdated now but it received great reviews at the time: 
"Mastro maps an evocative history of the underground dance culture" – Variety 
"The soundtrack is epic" – New York Magazine.
If you are into disco in the likes of Larry Levan, then that's a must-watch! The film also has rare archival footage and interviews of many legends no longer alive today.
Here is a trailer from Boiler Room:
Groove (2003)
I heard about the film because John Digweed comes at the end of the movie to play Heaven Scent. This track is legendary, I hope you have it on your hard drive! John and Nick Muir, from the Bedrock label, participated in making the soundtrack. The movie also features DJ Forest Green, DJ Polywog and DJ WishFM.
The story is about guys planning an underground party in San Francisco. From finding the perfect venue, sending emails, avoiding cops, getting the right DJ and equipment. One goal: Making the rave you will never forget. In the movie, we follow an experienced raver who convinces his brother to come for the first time. There the latter meets a girl he falls in love with.
Groove is kind of an innocent movie. The plot is simple, and only scratch the surface of the drug problem. It gives a small insight into the San Francisco scene but does not go too deep either. The "how to plan a party" side of thing is interesting though. Again its a movie to be remembered for its soundtrack.
Stark Raving Mad (2002)
This film is not about DJing or the DJ culture but an action movie where most of the actions happen in a club. The story is about a guy who wants to avenge the death of his brother. To do that he plans to rob a club filled with drug dealers, undercover agents, and gang crews.
The film soundtrack is made by John Digweed and Nick Muir (yes again) from the famous Bedrock label. While the story is basic, the soundtrack is made from legends. Great if you want to complete your music library. 
We Are Your Friends (2015)
A movie about a guy who ditches his studies in order to become a superstar DJ. You see the development of the wannabe from school parties to Ibiza clubs.
Eden (2012)
Eden is based on true facts of the late 90s underground era in Paris. It depicts the rise of Paul against The Daft Punk. We follow Paul in the movie who sees The Daft Punk having more fame than he does. The film is filled with Daft Punk music.
Juice (1992)
The story is about a "Q" (definitely a reference to Q-bert) who wants to become a turntablist. He evolves in a crew of 4, among which stars 2pac himself. The crew robs tracks in record shops, but Bishop (2pac) wants to go a step beyond. "Q" which is more of a passionate DJ do not agree with that.