The DDJ-200 is the entry-level controller from Pioneer DJ. As such, many people wonder if the DDJ-200 is worth it. Below are 10 reasons why the Pioneer DDJ-200 is good it for beginners.
1. It's plug & play
The Pioneer DDJ-200 is very easy to use. It comes with an audio splitter cable to plug headphones and speakers at the same time. It's very much plug & play: all you need is powering it by USB, connect it with Bluetooth to a smartphone and launch the appropriate app.
The WeDJ app for instance will help you set up everything and go through basic tutorials to get you started. For a beginner, the DDJ-200 is easy to set up compared to other controllers.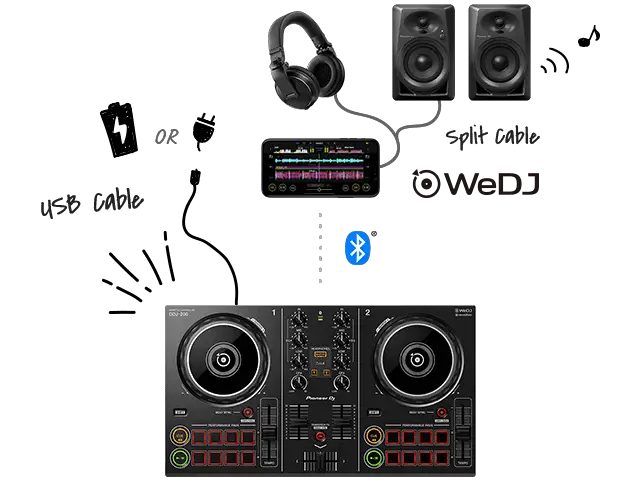 2. It works with a smartphone or tablet
The DDJ-200 can work with a smartphone, a tablet, or a computer. Having a controller working with a smartphone or tablet is a huge advantage. Indeed, many higher-priced controllers only work on computers, but not all computers are suitable to DJ. Indeed, you need a computer powerful enough to make everything run smoothly.
Nowadays smartphones are powerful enough to make DJ applications work with every smartphone. Thus you don't need to pay the extra cost of investing in a computer. Moreover, you will have a much more portable set-up!
3. It works with streaming services
When beginners start a DJ hobby, they often lack a large music library to mix from. The DDJ-200 is hopefully compatible with some streaming services. This is a huge advantage when starting to have fun right off the bat.
I recommend using the application "djay" by algoriddim that lets you connect to Tidal, a competitor to Spotify. It works on both iPhone and Android.

4. It comes with tutorials
Pioneer DJ made an application specifically for the DDJ-200 called "WeDJ". By using this application you will have step-by-step tutorials to help you use all features of your DJ controllers. These tutorials are really great for beginners as they cover the basics of DJing. That's the reason why I would advise you to start with "WeDJ" before switching to another app such as "djay". In particular, WeDJ has a feature called "Phrase sync" that helps you select the moment to mix in and out.
5. It's from Pioneer DJ
Pioneer DJ is the most famous brand in DJ equipment. They manufacture all the high-end DJ players and mixers you see in clubs and festivals. As such, the Pioneer DDJ-200 has a similar layout to all their must-have products. Therefore the DDJ-200 is a great start if you plan to update your equipment one day. You will feel at home!
Another great reason to start with the DDJ-200 is the possibility to use Rekordbox. Rekordbox is a software for Mac and Windows that allows you to use the controller but most importantly to manage your music. Rekordbox will analyze your tracks, set BPM grids, find their key tonality, etc.
You can also manage hot cues and loops in Rekordbox and export everything to a USB stick. That stick can then be used to play in clubs on Pioneer CDJ players. In short, everything your prepare today in Rekordbox with your DDJ-200 can become useful for the rest of your entire DJ career.
Having a similar layout to high-end DJ players and Rekordbox is really what makes the DDJ-200 worth it.
6. It is stripped to the most important features
I have seen many people complain that some features have been trimmed down compared to other controllers such as the DDJ-400. For complete beginners, I believe that can be an advantage. For instance, each track trim/gain is automatically adjusted by software instead of the manual knobs.
Not having to worry about these give you time to focus on what is important: match the beat per minute (BPM) and synchronize the two music in rhythm. The Pioneer DDJ-200 is a great controller to learn how to beatmatch without too many distractions.
The DDJ-200 still has the 16 pads like its big brothers. What it's lacking are buttons to switch between performance pad modes. But depending on the software you use, you can still change the mode with your mouse: hot cues, loops, or even effects.
7. It is very portable
The Pioneer DDJ-200 is very compact and portable. When starting a new hobby that may not last, having something of small size is great. It won't take much space on a desk when you don't use it. It can even stay in a drawer or even a backpack.
Its small size makes it easy to bring everywhere and practice whenever you have time: in the transport, on vacation, etc. When you feel confident enough, you can bring it easily to a friend's house to throw the most amazing party!
My secret tip: Connect it by USB to a power bank to have a portable DJ system that runs all night long!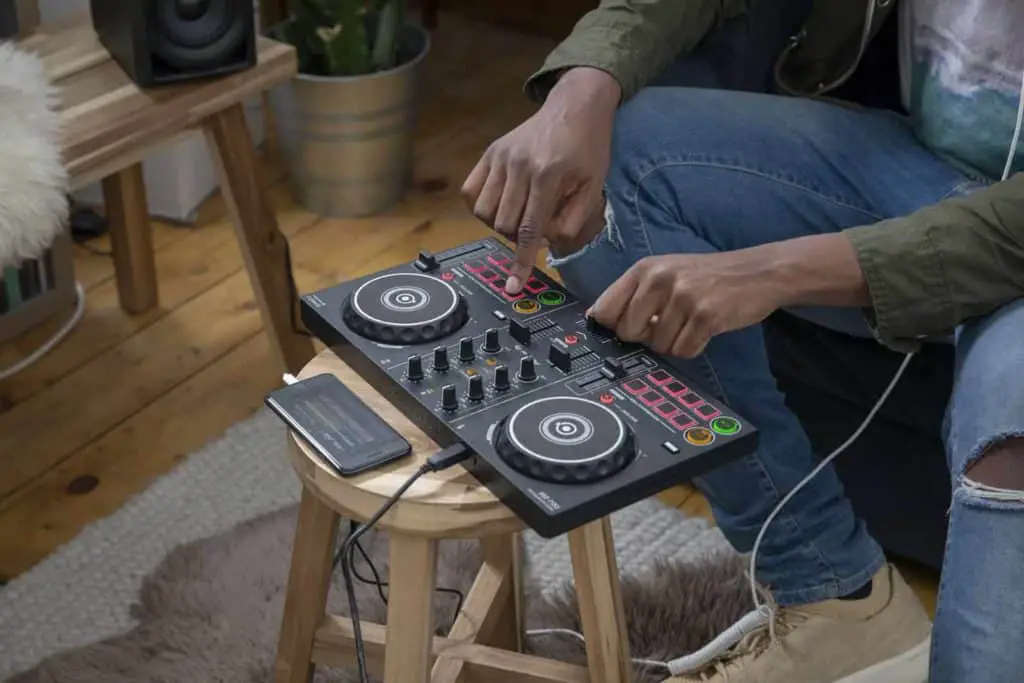 8. It is affordable
The Pioneer DDJ-200 is very cheap. It comes at only $149 on Amazon (buy it here). There aren't many DJ controllers at this price range that comes with that many functionalities. More than that, it is shipped with cables to plug it with headphones and speakers, so there aren't additional hidden costs.
The fact that it works with smartphones and tablets also helps save a few bucks since you won't need to buy a computer.
9. It doesn't have an audio interface / sound card
This reason may come as a surprise since it's why many recommend the DDJ-400 instead of the DDJ-200. But for a beginner, having an integrated sound card is not always a good idea.
Indeed, I see many people on forums complaining that their controller does not work and they don't really know why. For many of them, that was because they did not route their sound properly.
When using an audio interface, you need to specify to the software how to route the audio from the software to the audio sockets of your controller. It's easy to do for a DJ that is used to it, but it really isn't for a beginner.
When using a smartphone with a DJ app, you don't have much choice, the smartphone has only one stereo output that the software will use.
10. It's fun right off the bat
When starting to DJ, learning to beatmatch – especially by ear – can be a long learning curve. With the DDJ-200, Pioneer kept the beginners in mind. Indeed, on top the "sync" button that matches BPM automatically, Pioneer has incorporated 11 transition FX with the DDJ-200.
Transition FX are effects that are triggered when moving the crossfader. These effects will smoothen the transition between the two tracks. It is perfect to mix two completely different music genres or to make a transition when you did not have the time to beatmatch. In short, it's a safe escape for a beginner to keep the party running when he feels he might fail its transition.
The Pioneer DDJ-200 is really worth its price.
Convinced about buying one? Buy it here!