Rekordbox licenses and price plans are hard to understand. Pioneer changed their policy along the way which confuses a lot of people. How do you activate your Rekordbox with your DDJ? This is our complete guide.
Since Rekordbox 6, it is not required to enter the license key provided with some DDJs such as the DDJ-400. The paid options linked to the controller will be unlocked when the device is connected to the computer. There is no need to subscribe to any plan if it's a Rekordbox controller.
In this post, I will explain how to check that your Rekordbox is properly unlocked. Which controllers are concerned or not. How to buy a license if necessary, and finally how to activate it.
How do I activate my Rekordbox with DDJ-400 or other DDJs?
I am starting with the most asked question: How do I active my Rekordbox with DDJ-400? This is very frequent because the DDJ-400 comes with a license key and many people are confused about where to put it.
The license key shipped with your DDJ-400 was for the previous version of the software, Rekordbox 5. The DDJ does not require a license key with Rekordbox 6. Indeed, the software is "hardware unlocked", meaning the paid options will automatically be unlocked when the controller is connected to the computer.
Even if Rekordbox encourages you to purchase a subscription plan, this is not necessary. The subscription plans unlock additional features such as cloud functionalities that very few people need. I cover the different subscription plans in another paragraph.
In other words, the license key provided with your controller is now useless with Rekordbox 6. There is no reason to install Rekordbox 5 instead, this version is no longer supported. Moreover, the old version does not provide additional features.
If you are wondering if your Rekordbox is properly unlocked, just check you can use the record feature. This option is locked on the free version of Rekordbox. If you can use it, that means Rekordbox did recognize your controller. If not, that does not mean you need to buy a license but that your drivers may not be installed properly.
Indeed, if the drivers are not installed properly, there is no way for Rekordbox to recognize that the connected controller is indeed a supported DDJ. The DDJ-400 drivers are supposed to be installed automatically when connected to a computer. For other DDJs, the drivers can be downloaded here: drivers from PioneerDJ.com. Manually deinstall the drivers and redo the procedure may sometimes help.
If you still cannot use the record function, that may mean your controller is unsupported. In other words, it does not "hardware unlock" Rekordbox 6.

Which Pioneer DJ devices activate Rekordbox 6?
The Pioneer DDJ controllers made to be used with Rekordbox does have a license for Rekordbox 6 (hardware unlock). The controllers made for Serato do not.
Apart from the DJ controllers, some Pioneer DJ devices may also unlock Rekordbox. This is all the Pioneer products that unlock Rekordbox 6:
DDJ-200
DDJ-400
DDJ-800
DDJ-1000
DDJ-FLX6
DDJ-RB
DDJ-RR
DDJ-RX
DDJ-RZ
DDJ-RZX
DDJ-WeGO4
DJM-250MK2
DJM-450
DJM-750MK2
DDJ-XP1
DDJ-XP2
DJM-S7
DJM-S11
DJM-V10
XDJ-RR
XDJ-RX
XDJ-RX2
XDJ-XZ
INTERFACE 2
RB-DMX1
CDJ-3000
In particular, you may notice that the popular CDJ-2000, DJM-900, and DJM-S9 do not unlock Rekordbox 6. That's also the case for the "made for Serato" controllers such as the DDJ-1000SRT, DDJ-SX3, or DDJ-SZ2.
Do I need to pay a license for Rekordbox?
You don't need to buy a license for any controller made for rekordbox, DDJ-400 included.
If your device is not in the list of controllers presented above, then purchasing Rekordbox may be an option. Indeed, Rekordbox can work with devices made for Serato. For instance, the DDJ-SX can work with Rekordbox if you subscribe to a monthly plan. The DDJ-SX does not have the "hardware unlock", so using Rekordbox with it is not free. But if you still wish to do, that's possible against a subscription.
However not all controllers can work with Rekordbox, so that's important to check if it is compatible with it. Pioneer has hopefully provided a complete list here.
Another reason to subscribe to a monthly plan is to unlock additional features not available with a "hardware unlocked" device. Indeed, even if you have a DDJ-400, you may subscribe to unlock additional options. Please note that this is really unnecessary as all the main features linked to your hardware are unlocked.
Here are the additional options that can be unlocked with a monthly plan:
Cloud sync: Synchronize your library over dropbox to access it anywhere.
DVS: Control Rekordbox thanks to timecoded vinyl (work only with compatible devices).
Vocal position detection: It shows where there are vocals in a track.
RMX effects: Additional effects but the basic ones are already awesome.
Lyric feature: Display lyrics.
Video feature: Mix and scratch videos.
Sequencer: Record a pattern of samples and play it back.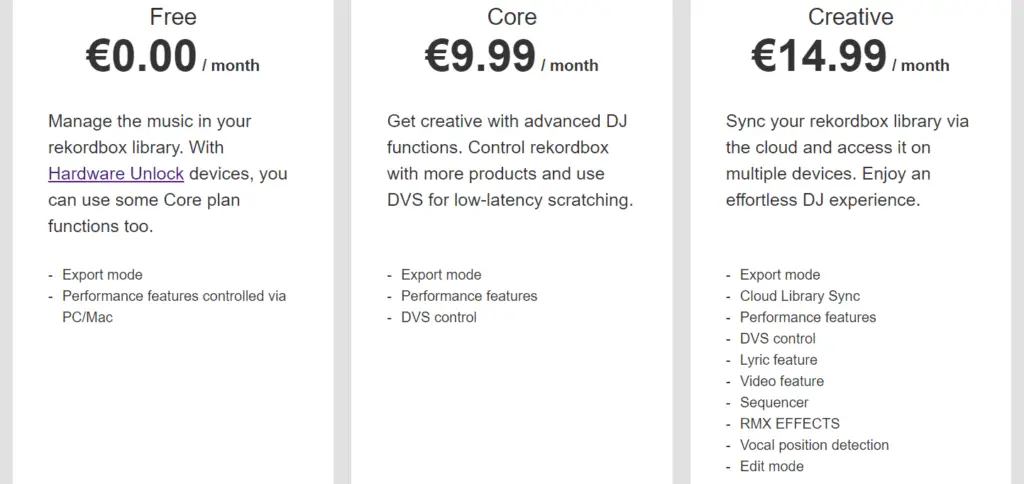 The features I mentioned are available with the "creative" plan for $14.99 per month. The "core" plan is mainly to unlock devices not made for Rekordbox to begin with. It is useful for some "made for Serato" controllers such as the DDJ-SX for instance.
All these features are really advanced and not needed for many DJs, especially beginners. If you own a DDJ-400, the only feature I would enjoy is the video mixing.
Indeed, the sequencer would be hard to use without the proper physical button for record and play. The DDJ-400 does not have dedicated buttons, so that would require remapping the device, which is not easy to do. The DDJ-400 is also not compatible with DVS, so that option will be useless.
The vocal position detection is far from accurate at the time I write this post and the RGB waveform already does the job on tracks I know. For me, this option is a gimmick.
Regarding Cloud Sync, the majority of DJs prefer not to rely on the internet anyway. And if you do want to use the internet to mix, I believe using a streaming service such as Tidal is far more useful (Spotify is not available). Indeed, you will have access to an unlimited library contrary to a limited dropbox account with "Cloud sync".
Therefore, if you have an entry-level DJ controller, buying a Rekordbox license is not necessary. A few people with expensive controllers may find it useful, but again not mandatory at all.
If you want to get a license here is the procedure below.
How do I get a Rekordbox license key?
To get a Rekordbox license go to Rekordbox.com, create an account and go to "My page". Under "My profile" click on "Licenses".
The subscription that you take will be linked to your email account. Then in Rekordbox log in with the same email. Rekordbox will recognize the license thanks to it.
Where to put the license key in Rekordbox 6?
To activate a license in Rekordbox 6:
Click on the button "My page".
Click on "activate this computer" in the "plan" tab.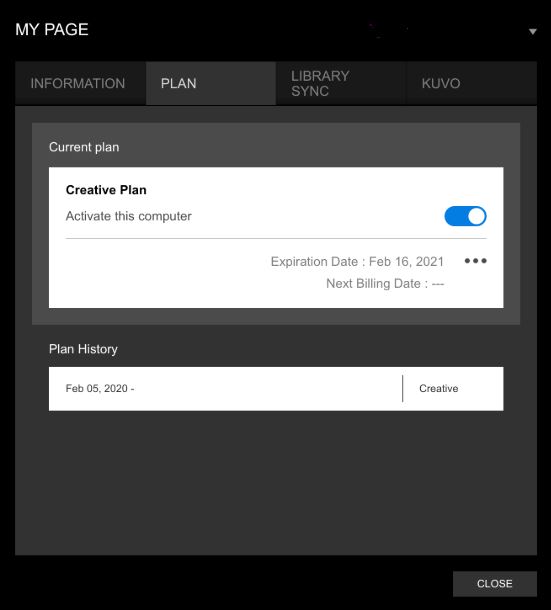 This will work only if you have purchased beforehand a license on Rekordbox.com. The license will be recognized thanks to the email used, so do not forget to login in Rekordbox 6.
Please note that the license key provided for Rekordbox 5 cannot be input into Rekordbox 6. If you do have a license with your controller, such as a DDJ-400, there is no need to subscribe to a monthly plan. Please refer to the section "How do I activate my Rekordbox with DDJ-400 or other DDJs?"
You can activate up to 2 computers on the "Core" plan and 4 on the "Creative" plan. If you have a "hardware unlock" device, you can connect as many computers as you would like.
Can you transfer a Rekordbox license?
If you have changed your computer and want to transfer your license to another computer, that's possible. In Rekordbox 6 just go to "My page" → "Plan" and turn off "activate this computer". Afterward you will be able to do turn on "activate this computer" on the new computer.
If you do not have access to the old computer, make an inquiry on their support page: https://rekordbox.com/en/support/faq/plans/
Sources: