There are several options to record a DJ set: within a DJ software ($0), with an AUX cable and a smartphone (below $30), or with an external device ($90 to $350). External devices have the best recording quality and other useful usages such as crowd recorder, streaming interface, etc.
The best ways to record a dj set are:
With a handy recorder
With a recording mixer
With an iPhone or Android Phone
With a streaming interface
With a computer and aux cable
With an external sound card
With a DJ mixing software
With the Pioneer DJM-REC app
In this post, you will find details about all these different ways to record a DJ set. I will detail all the advantages and drawbacks of each solution, including the cables you need to buy. Keep reading to know how to record a DJ set!
Recording a DJ set with a handy recorder
Handy recorders are the best option to record a DJ set. They are very versatile due to both their portability and their embedded microphone. Running on battery, you can bring it everywhere you mix: at home, in a club, or at a friend's house. Very compact and sturdy, they can be brought everywhere very easily. I recommend the Zoom H4n Pro.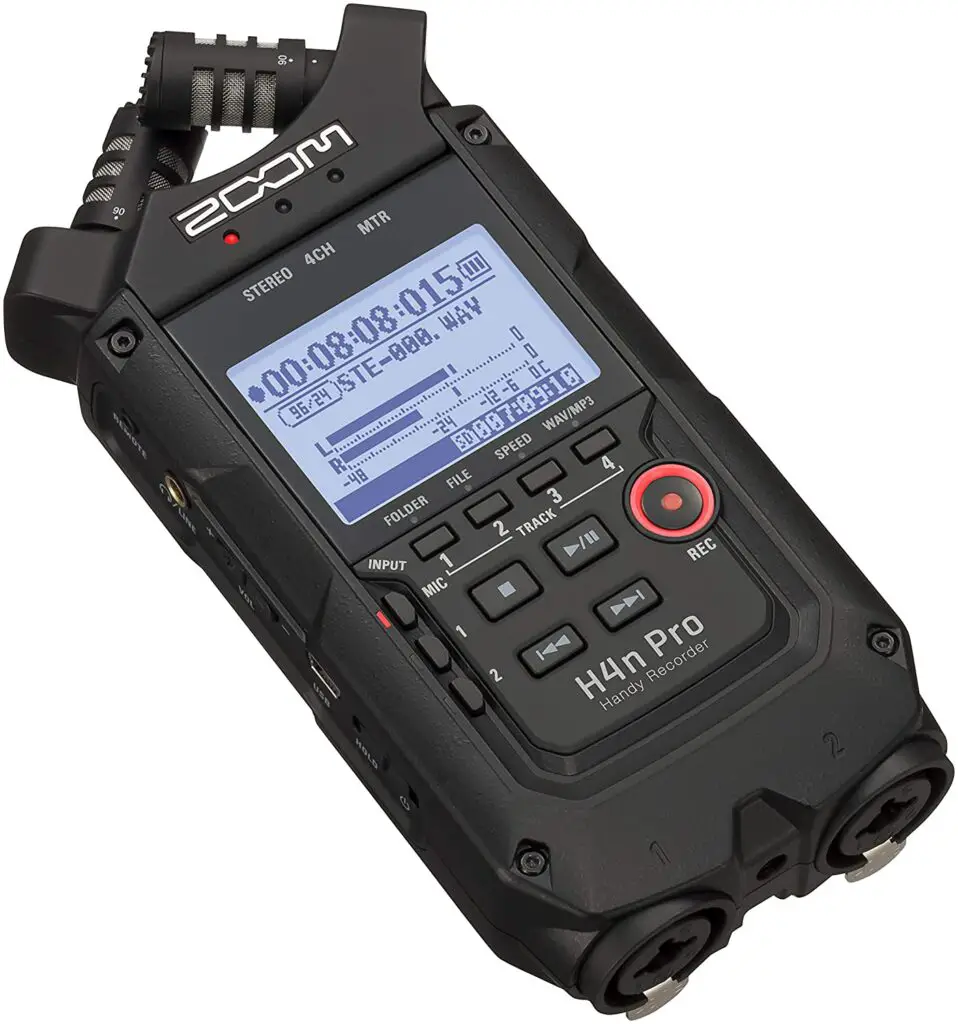 They can record from either a line-in or from the embedded microphone. The line-in option would bring the best audio quality with the appropriate cable. However, having an embedded microphone is also really handy if you want to record something when you are not DJing. I use it sometimes to recall a song someone played. Some models such as the Zoom H4n Pro or the Tascam DR-40X can record from the line-in and microphone at the same time. Therefore, handy recorders are a great option to record both your DJ set and the crowd reaction.
Most handy recorders double as an audio interface through USB. You can therefore use them for streaming your DJ set or as a microphone for streaming. But keep in mind that was not the intended use to begin with. Therefore, a dedicated streaming hardware would be easier to use.
I would recommend the Zoom H4n Pro though slightly more expensive than the Tascam DR-40X. Indeed, it has better preamps for external microphones and an additional 1/8″ input. Regarding the cables to plug with a DJ mixer, you need an RCA to TS jack cable like this one.
Please note that the cheaper Tascam DR-05X is also sometimes recommended. Be careful: it was firstly intended for microphone-level signals and not line-level ones. Though it is possible to make it work by lowering its internal "amplification" (or gain), it was not the intended design. What that means is that you may have distortion when you put your mixer volume too high. The Tascam DR-40X is different because it was also designed to record instruments. It would therefore record with a much better audio quality. If you are on a budget, the Tascam DR-05X might do the trick for you though.
Buy it here: Zoom H4n Pro + audio cable
Price: $229.99 + $7.85 = $237.84
Recording a DJ set with a recording mixer
Recording mixers are a great professional alternative to handy recorders. They are especially great if you plan to do streaming thanks to their volume control knobs. I recommend the Behringer Xenyx Q502USB which is affordable despite having amazing preamps and having many inputs available. It is also an audio interface. Therefore, the recording is possible thanks to the USB that sends the audio to your computer. Afterward, all you need is a recording application such as Audacity.
To plug together your DJ equipment and the recording mixer you will also need an RCA to TS jack cable. Find the best one on Amazon here.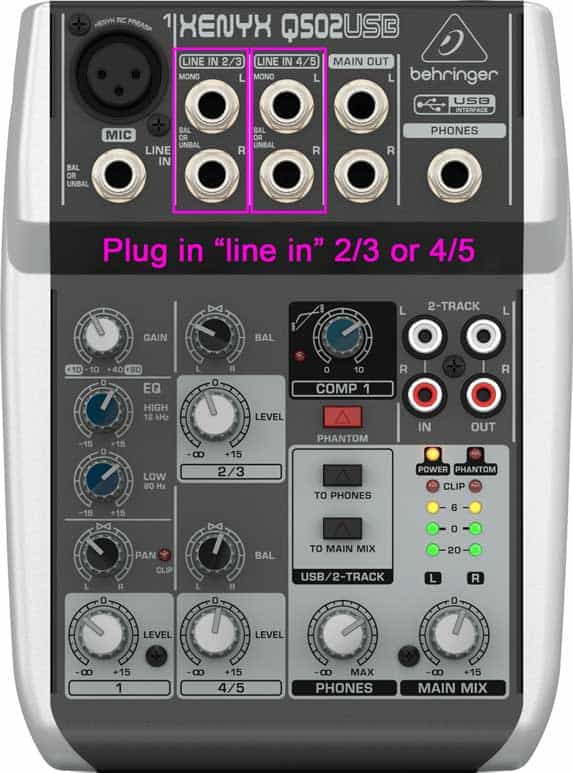 Recording mixers are more versatile than handy recorders. You can control simultaneously the volume of 3 different sources: a microphone, a DJ equipment, and another source. That's why it makes them very appreciated among streamers. Their only drawback is their non-portability. The Xenyx is very compact though. If you need help about the cable to buy and how to plug everything, please have a look at my dedicated blog post.
Buy it here: Behringer Xenyx Q502USB + audio cable
Price: $78.99 + $7.85 = $86.84
Recording a DJ set with an iPhone or Android phone
You can use an iPhone or Android phone to record your DJ set with an aux cable. That's in fact the cheapest option to record but against a slight decrease in audio quality. Moreover, the audio quality may differ according to the phone you use. However, it has the great advantage of being very portable. Just makes sure to have enough battery before starting the recording!
To record with your phone you will need an RCA to 3.5mm TRS cable plus a TRS to TRRS adapter. Then all you need is a recording app which are widely available on every app store. Please note I recommend using the "headset buddy" adapter for the TRS to TRRS conversion because of its attenuator. Indeed, using another adapter may cause the sound to be distorted depending on your phone brand. The "headset buddy" lowers the sound from a line level to a microphone level. That should ensure compatibility with much more phones. Other adapters, such as the movo, are half the price but do not have this attenuator, so that's at your own risk!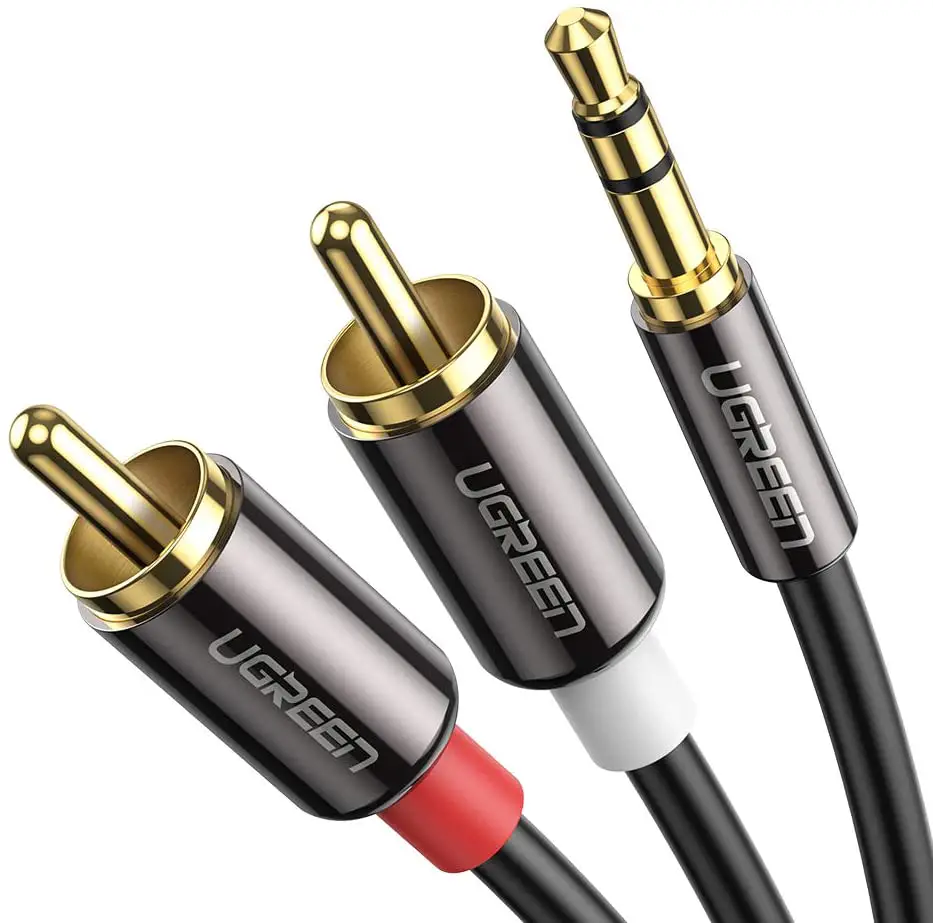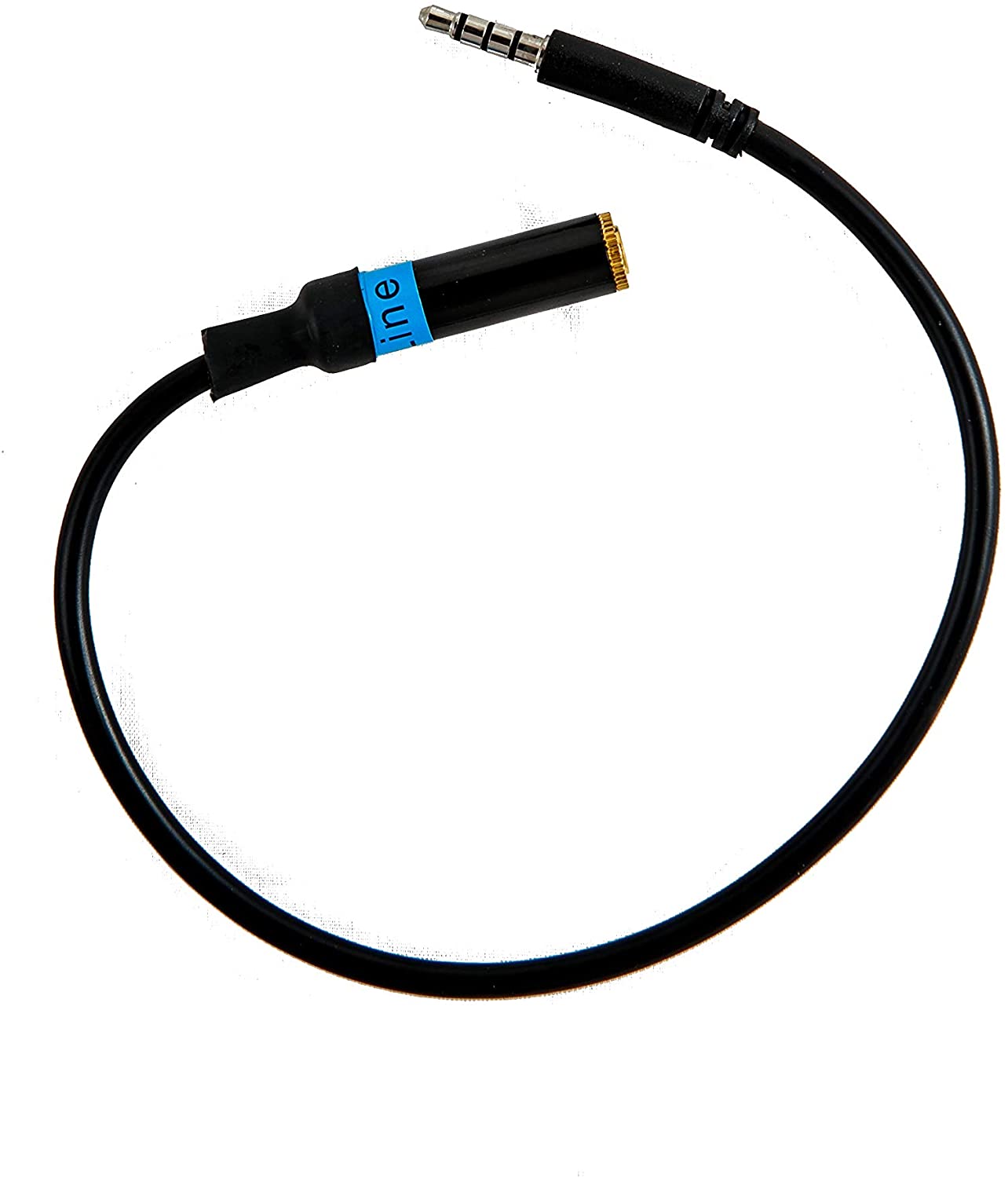 Buy it here: UGREEN cable + headset buddy converter
Price: $7.99 + $21.95 = $29.94
Recording a DJ set with a streaming interface
Streaming interfaces, such as the iRig stream, have been very popular nowadays. Streaming interfaces are no less than audio interfaces dedicated to streaming. As such, they can also be used to record any sound plugged in its RCA connector. The iRig stream is very popular among iPhone and Android users because it comes with an app and is compatible with most streaming platforms. As such, that's probably the most plug-and-play and easy-to-use solution. As such, the iRig stream is the best solution to record your streams. Please note you will also need an RCA to RCA cable. I recommend the ones from UGREEN which have amazing reviews.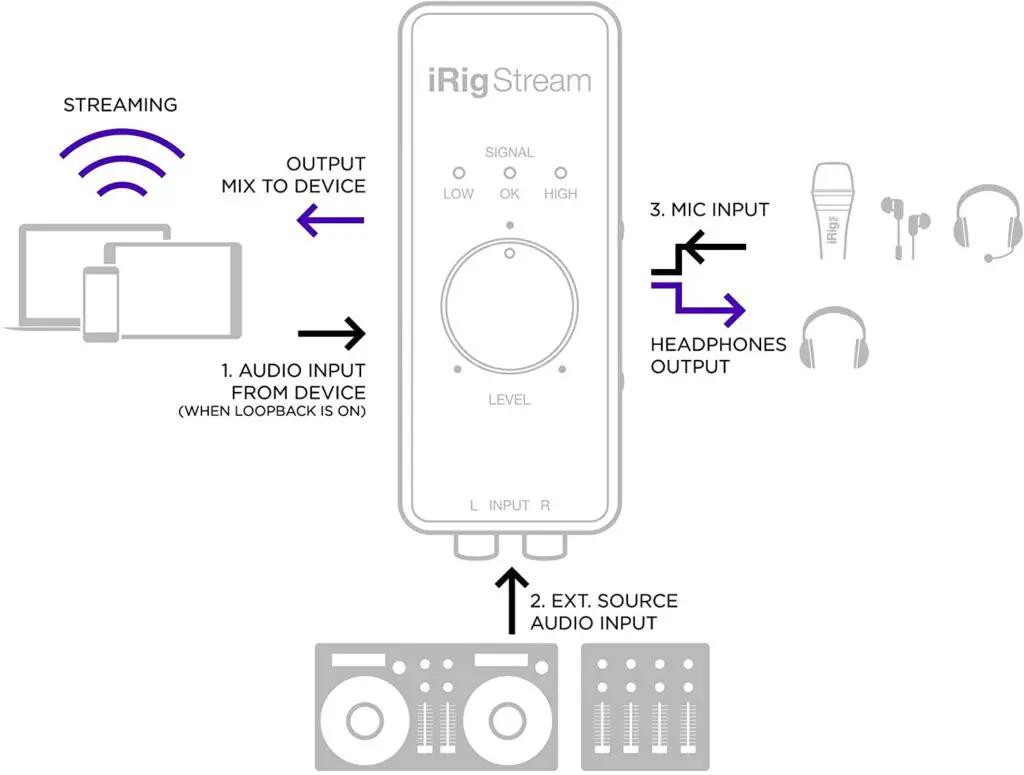 Buy it here: iRig stream + UGREEN cables.
Price: $99.99 + $7.99 = $107.98
Recording a DJ set with a computer
Recording with a computer is possible and cheap with the right AUX cable. Most computers have either a mic-in or a line-in connector, and even sometimes both!
If you have a line-in 3.5mm connector, a simple RCA to 3.5mm TRS cable would work. The ones from UGREEN are great for that. Afterward, all you need is a recording app such as Audacity.
However, some recent laptops have dual headphones/microphone 3.5mm connectors. In other words, these are not TRS connectors but TRRS. In that case, you would need the same RCA to 3.5mm TRS cable from UGREEN plus a TRS to TRRS adapter with embedded attenuation. I recommend the headset buddy adapter that lowers the signal from a line-level amplitude to a microphone level one. That's specifically the attenuation you need with DJ equipment. Without the right attenuation, your recording would be distorted. Then all you need is an app such as Audacity to record your DJ set.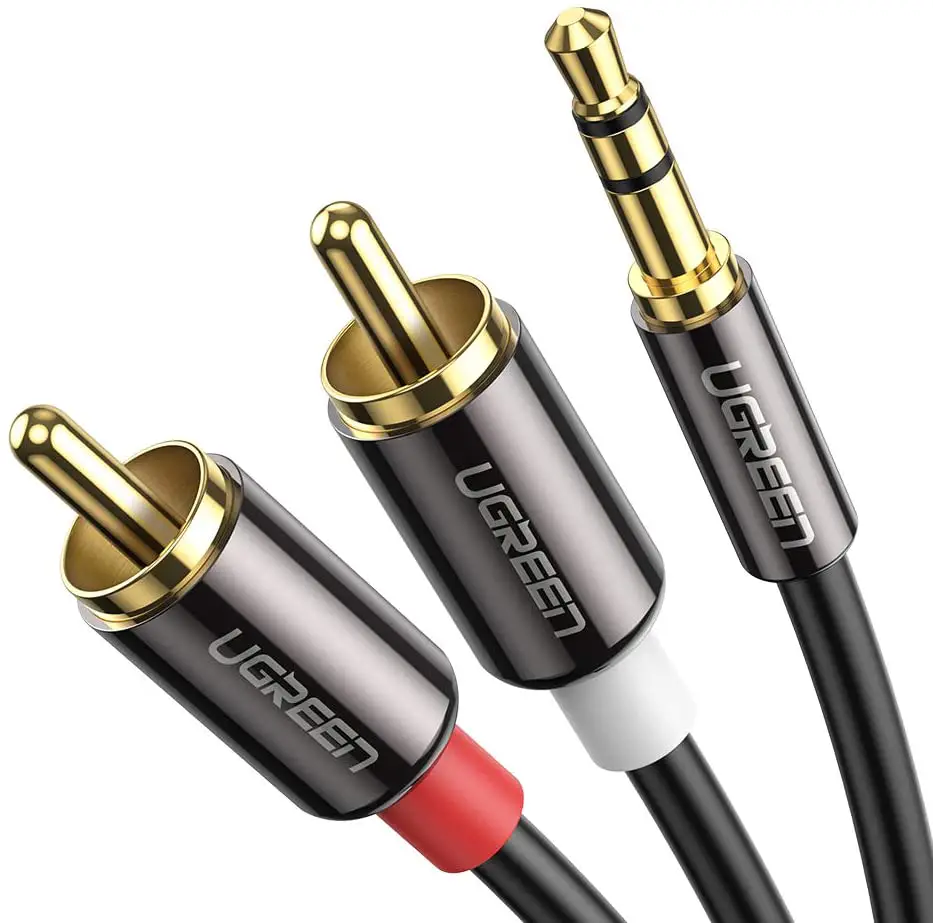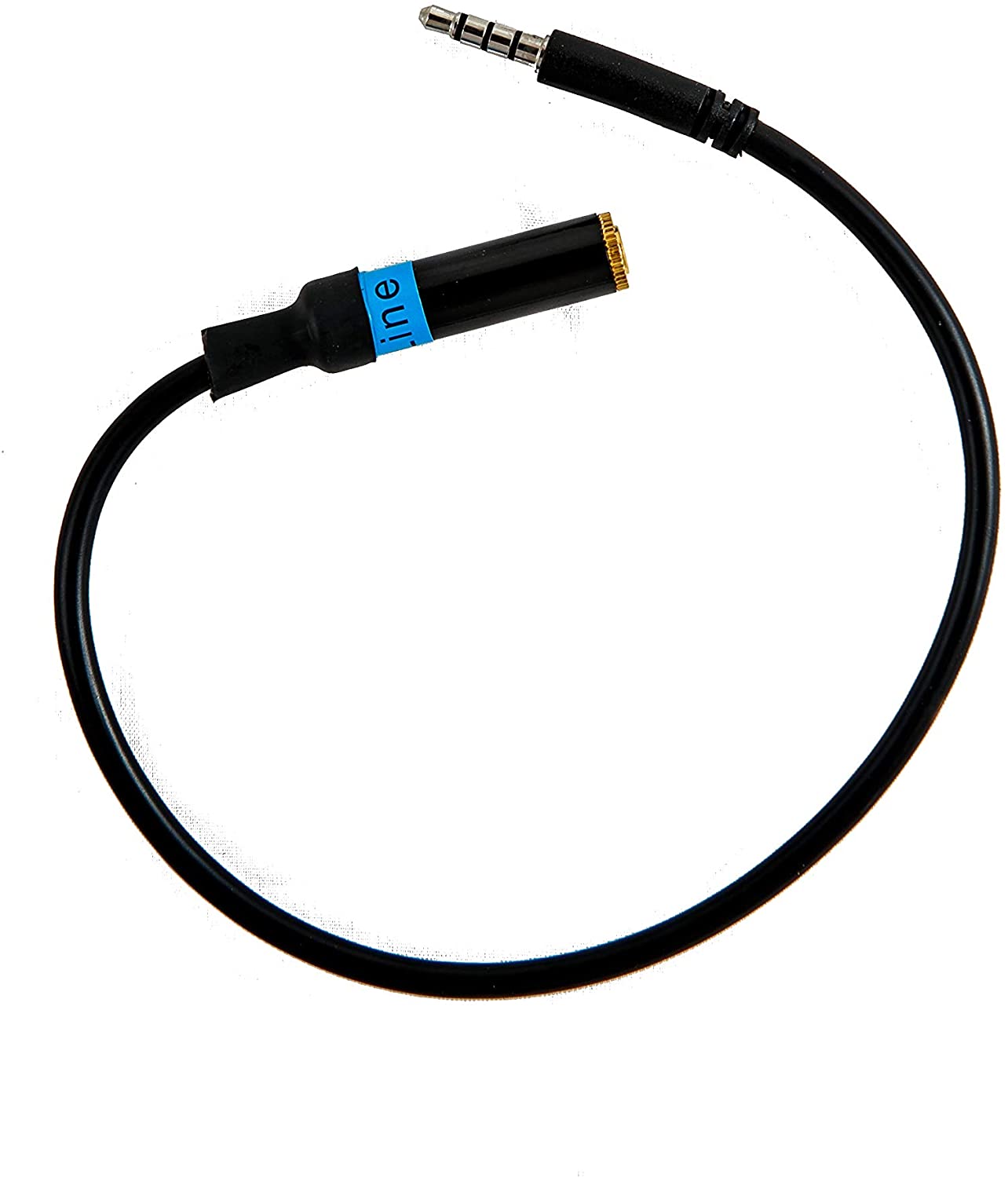 Buy it here: UGREEN cable + headset buddy attenuator
Price: $7.99 (without headset buddy) or $29.94 (with headset buddy)
Recording a DJ set with an external sound card
As a DJ you may plan to produce your own music one day, in that case, you would need an external sound card. For DJ producers, an external sound card is the best way to record your DJ sets with the highest audio quality. If you want to plan ahead, the Focusrite sound cards – such as the Scarlett 2i2 – are great and affordable.

Most external sound cards have 1/4″ connector inputs. You would therefore need an RCA to 1/4″ TS cable such as the ones from Hosa.
Buy it here: Scarlett 2i2 + Hosa cable
Price: $169.99 + $7.85 = $177.84

Recording a DJ set with a DJ mixing software
If you are using a DJ controller, you can use the software coming with it to record your DJ set. Please note that you may need the pro version of the software to unlock this feature. Indeed, some controllers come with Serato DJ Lite which does not provide the recording. You can buy Serato DJ Pro to unlock the feature. For more information about the differences between Serato DJ Lite and Serato DJ Pro, please read my dedicated post.
Rekordbox controller from Pioneer DJ comes with the recording option unlocked thanks to the "hardware unlock" feature. What that means is that you don't need to buy the pro version to start recording with a Rekordbox controller. For more information about hardware unlock, please read this post.

When recording with DJ software, you don't need any audio cable for most cases, unless you want to record your microphone as well. Indeed, budget controllers do not send the microphone sound over USB. I have a dedicated post covering this topic and how to solve it here. Higher priced controllers do not have this issue though, that's why you don't need a cable most of the time.
Buy it here: Serato DJ Pro or Rekordbox Core Plan
Price: Free to $129 (depends on DJ controller)
Recording a DJ set with Pioneer DJM-REC app (iOS)
Pioneer DJ has an iOS app dedicated to record DJ sets from DJM mixers. Though this is a paid app, it has the advantage of being simple and perfectly balanced. Indeed what's better to record a set from Pioneer equipment other than a Pioneer app? You are sure to have a great sound quality without distortion with such a solution. Indeed, the digital signal from the DJM is directly converted into a digital audio file without the usual intermediate analog conversions. It works by plugging the iPhone into the DJM USB port, therefore no audio cable required.
Please note that this solution will only work with Pioneer DJM mixers which does not make it a very versatile option. I would recommend the RCA cable + attenuator solution explained above for more flexibility.
Buy it here: DJM-REC app
Price: $10.99